An aplomb, calm character, on field, nothing seems to provoke him. Coming from Pretoria, South Africa, he attended school alongside Faf du Plesis, Jacques Rudolph and Heino Kuhn. Yes, we are talking about AB de Villiers. A name synonymous to the 'SuperMan', here we decode the cricketing genius and his magic on the 22 yards.

Look no further, tighten your seatbelts as we explore 'Anomalous AB De Villiers'.


The 'Modern' Day Cricketer
It is in evident that changes will occur in the due course of time and evolution takes place. In the quest for perfection, we tend to excel at what we do. Excellence thus is the ultimate reward for endless hours of hard work and all those sacrifices.
After 400 years, the sport has gone through many incarnations. When we talk about modern day cricket, it's not just mere slogging or orthodox methods either. Rather, it is all about innovation. Yes, batting today requires you to be fit and raring to go at all times.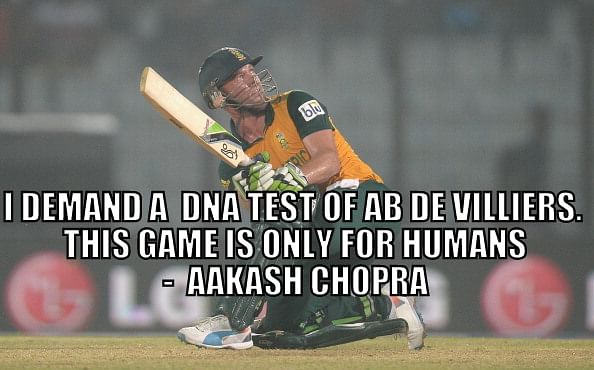 Image: SportsKeeda
This quote by former India batsman Aakash Chopra perfectly sums it up.
He certainly has 'alien-esque' abilities. As lithe as anyone, he's a light wire on the field. Being a wicket keeper, he grabs onto anything that comes his way. He has all the shots in the book and enough to create a manual of his own.
It almost seems like he sends those with an authority slammed on them! In cricket, your success is determined by how quick you are in anticipating things more often than not. Good batsmen are able to judge the line and length faster than the mediocre ones. While the great ones use past experiences, observations and predictions to make deliberate guesses, they figure out what the ball would do. Ultimately, going for the most effective shot! The outcome hence, is a treat to watch.


The Musical Connection
The batting maestro is vulnerable to music however. Deeply attached with his music, he particularly enjoys the experience till the 'final' note. That is, he completes the task at hand rather than worrying for anything else. What people think, or say does not matter to him.


His consistency has been a reflection of his attitude lately. The usually nice guy, shows no mercy on the cricket field. Bowlers, no matter how good they bowl, get smashed to every corner of the park with his mark on it.
It almost seems like he sends those
with
an authority
slammed on them.
The Complete Package
Image: smh.com.au
Being extraneous and effective at the same time, he truly enjoys the game. Right from donning the national colours in sports such as Hockey, Rugby, Badminton, Tennis and Swimming, he eventually blessed the game of cricket with his genius skills. And not to forget, he was a recipient for the Nelson Mandela national medal for a science project. Is there anything that he cannot master?
His shots are an amalgam of perhaps all the sports that he's participated in. Here's a breakdown.
Tennis was a sport that possibly developed his bat speed, and his ability to middle the cricket ball. The power, with which he hits them, just makes a crackling sound off the willow.
Playing a bit of golf helped him to focus, and bring out unprecedented accuracy. Rugby must have surely built that 'Never say Die' attitude and sharp catching skills in him. Hockey, without a doubt was the reason he has mastered those paddles and sweeps.
Soccer of course contributed to his stamina build up and squash with his reflexes and hand-eye coordination. A necessary component in your aresenel when bowler hurl in at over a 90 miles an hour.


As effortless as it can get, I have never seen this man struggling or finding it tough to move on with the game. He is at his peak, the question stands, "Are there no ways to get him out?"
Of course he is a class act. But not to forget, nobody is perfect! I feel the opposition gets so overwhelmed by his performance that they possibly don't tend to do their homework well.
The Number Game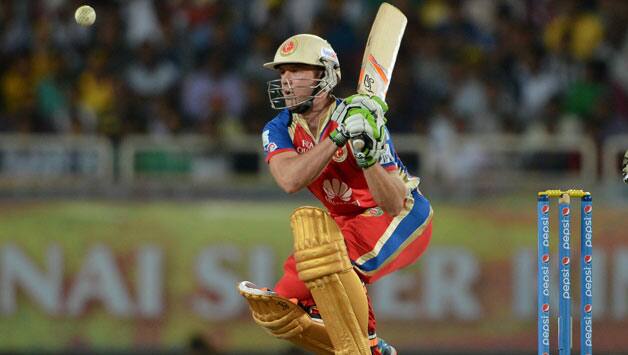 Image Courtesy: IANS
Now let's talk a bit about his numbers. They define a player don't they? While at some point one may think that they don't do justice to individual capabilities, but you have to refer to the statistics eventually. AB de Villiers, with his heroics over the years, has some staggering and mind blowing numbers to his name.
- First batsman to average 50+ with a strike rate in excess of 100 for 50+ ODI innings.
- He has 58 sixes in ODI already in just 18 innings- the most by any player in a calendar year, going past Afridi who had 48 in 37 matches. A record that stood for 13 long years.
- 5 out of his 23 one day hundreds were scored when he came to bat after the 25th over. Nobody is close to this as the next best is Virat Kohli with 2 tons.
- All of his 23 ODI centuries have been scored with a strike rate over 100. Next best is that of Adam Gilchrist who scored 13, and then Sehwag with 12.
- AB de Villiers holds the record for the fastest 50, 100 and 150 in ODI Cricket.
- 4 of his ODI 100s were scored in less than 60 balls, the only player to do so.
-Since 2011, South African batsmen have scored 86 hundreds in One Day Internationals. Out of which Amla and ABD account for 41.
Test Career
"Every time I go out to bat I have got the same mindset. Nothing changes. All the formats. Any situation of the game"

It is nature's law that the fittest survive. Thus, one must continuously evolve with time. Adapting and evolving with the changing times is not easy. But, this man has done it with ease. After 2008, he has drastically changed as a player. His career average is entirely because of the latter part of his career.
Due to his increasing popularity as an ODI and T20 player, his Test records don't get the attention they deserve.
| | | |
| --- | --- | --- |
| | 2004 - 2007 | 2008 - Present |
| Matches | 33 | 66 |
| Runs | 2073 | 5612 |
| Average | 36.36 | 61.67 |
| 100s / 50s | 3/13 | 18/24 |
After his debut in 2004, AB played 33 Tests and scored 2073 runs at a mediocre average of just above 36 with just three hundreds. Come the year 2008, and things changed for this South African. He has played 66 tests from the year 2008 to present and has scored 5612, while almost doubling his average. In the process, he piled up 18 centuries and 24 half-centuries.
The 'Elite' group
In the last eight years, de Villiers' average of 61.67 is the best among the 27 batsmen who have scored more than 3500 runs in Test Cricket. He is joined by Shivnarine Chanderpaul and Younis Khan who average more than 60 as well, while Kumar Sangakkara and Amla have average over 58.
AB de Villiers averages 61, 69.51, 57.44 and 51.07 in four innings of a Test respectively. That shows that he is not just confined to scoring in one or two innings, signs of a big match player. Younis Khan of Pakistan is the only other player with an average of 50 plus in all the four innings of a Test Match.
** (Minimum 500 runs cut off for each innings)
Agility across all formats
De Villiers during his 220 ball 33 against Australia.
Image Courtesy: Getty Images
We all are aware of his flexibility in switching roles and performing in pressure situations. Probably after MS Dhoni, he is the most calm player when it comes to handling critical situations, and more importantly, performing when most needed. De Villiers is clearly not a one dimensional player. Well the numbers don't lie, let's have a look.

Now, strike rate is one thing that defines a kind of player. For De Villiers, the difference in his strike rate is an astounding 323.64 while comparing his lowest Test and highest ODI strike rate. It certainly which depicts that he is not a one format player.
Home v/s Away
It is generally observed that players seize on the opportunity and look forward to it as a way to better their statistics. Obviously as they know the pitch, and have home support they tend to perform well. Also, not many players perform while playing outside their country due to the challenges posed by the opposition. Well, for this man, it doesn't really matter. He seems to have mastered the skills of adaptation.
Let's see a breakdown of overall averages of batsmen in different countries.
| | | | | |
| --- | --- | --- | --- | --- |
| Country | South Africa | England | Australia | India |
| Overall Average | 29.5 | 31.38 | 34 | 35.12 |
South Africa, a nation where a very few players are able to perform. The typical pacy and seaming wickets show no mercy to the batsmen. It is all about seaming ad swinging the ball. AB averages an astounding 63.04 in 32 tests, with 11 hundreds.


Again, it's the same story here. Until 2007, he averaged just above 30 in 22 home Tests and 48 away from home. But then from 2008, he emerged as a better player, smashing all records.


Pace v/s Spin
| | | |
| --- | --- | --- |
| | Dismissals | Average |
| Vs. Pace | 95 | 52.16 |
| Vs. Spin | 48 | 55.93 |
Who says he cannot play spin? In the recent times he has got out to Ravichandran Ashwin a couple of times but his overall figures suggest he is equally comfortable while playing spin as pace. On the contrary, he averages more while facing spin than pace.


While we continue to stay in awe of his grandiose and glamour on field, he has now represented his country for 100 Tests. A remarkable feat to achieve in itself which yet again speaks volumes about this magnum opus player.

'A player treading from some other planet is now ruling the gentleman's game on earth.'